Playground Programs
Get the latest copy of our brochure featuring all three of our award winning playground and student wellness programs.
Join Schools, PTAs, Principals, Recreation Departments, Health Departments, Park Districts and others across the country in adopting these award-winning programs that reduce conflict and help kids be more active and involved.
Download your own copy of our 6 page Peaceful Playgrounds Program brochure and introduce all your playground staff to the features and benefits of this award winning program.
Fitness Fun Zone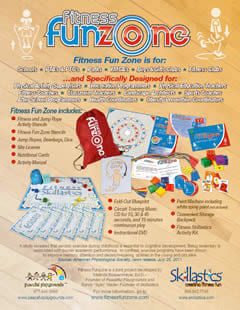 A one-of-a-kind evidence-based physical activity court designed to accommodate 1 to 50 individuals of various fitness abilities.
This Fitness Fun Zone outdoor court includes multiple game and activity applications that incorporate fitness and nutrition.
Schools will appreciate the ease of monitoring the activities that address NASPE Fitness Standards 3 &4 in a manner that's both effective and efficient.
Ten minutes is all you need to customize your fitness in a variety of ways that allow for maximum to vigorous physical activity!