Playground Programs
Get the latest copy of our brochure featuring all three of our award-winning playground and student wellness programs.
Join Schools, PTAs, Principals, Recreation Departments, Health Departments, Park Districts and others across the country in adopting these award-winning programs that reduce conflict and help kids be more active and involved.
Download your own copy of our 6-page Peaceful Playgrounds Program brochure and introduce all your playground staff to the features and benefits of this award-winning program.
---
2-Go Games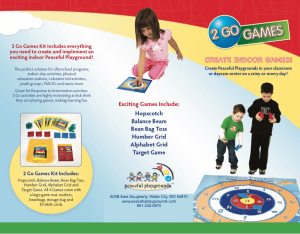 The 2 Go Games Kit includes everything you need to create and implement an exciting indoor Peaceful Playground.  It is the perfect solution for afterschool programs, indoor-day activities, physical education stations, volunteer-led activities, youth groups, YMCA's and many more groups.
The 2 Go Games Kit includes Hopscotch, Balance Beam, Bean Bag Toss, Number Grid, Alphabet Grid, and Target Game.  All 6 games come with a large game mat, markers, beanbags, storage bag, and 30 table cards.
---
We Count Pedometer Program
The We Count Pedometer Program is a research-based Children's Walking Program.  The program includes teacher mini-lessons in the areas of instruction on nutrition and physical activity; goal setting and weekly meetings.  Program Components include: Teacher resource package, CD of handouts, logs, etc; 10 minutes lessons; goal setting materials; storage case for pedometers; 10 pedometers
---
Peaceful Playgrounds Recess Program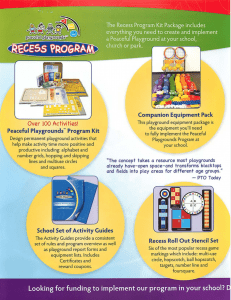 The Peaceful Playground Program Kit, Equipment Companion Package, Recess Roll Out Stencils, Instructional Games DVD Series, School Set Activity Guides, Striping Machine and Paint, Site License, Staff Webinar and more….  Considered the standard in K-6 playground design.
Design permanent playground activities that help make activity time more positive and productive including alphabet and number grids, hopping and skipping lines, and multi-use circles and squares.   Additionally, the program comes with a set of playground equipment, a set of 4 activity guides, a recess roll-out stencil set, paint and paint machine, instructional games DVD's, and a Peaceful Playgrounds live webinar with our master trainer.  Plus many extra components too numerous to mention………
---
Fitness Fun Zone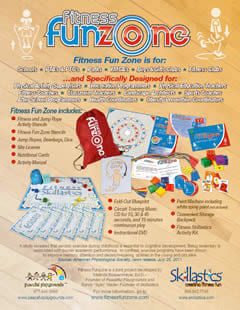 A one-of-a-kind evidence-based physical activity court designed to accommodate 1 to 50 individuals of various fitness abilities.
This Fitness Fun Zone outdoor court includes multiple games and activity applications that incorporate fitness and nutrition.
Schools will appreciate the ease of monitoring the activities that address NASPE Fitness Standards 3 &4 in a manner that's both effective and efficient.
Ten minutes is all you need to customize your fitness in a variety of ways that allow for maximum to vigorous physical activity!
---
Fundamental Movement
The Fundamental Movement Kit includes all the materials you need to instruct lessons indoors or outdoors.  The program is designed as a physical education program for preschool to grade 2.  The Fundamental Movement Program Components include:10 copies of the Fundamental Movement guide; a playground blueprint of Fundamental games and markings; 41 plastic stencils like letters, numbers, feet and shapes; 10 parent newsletters on monthly skills themes; monthly awards certificates; motor skills checklists; staff development materials; task cards; physical activity exercise cards; an equipment package; a set of 10 rollout stencils; and paint and paint machine.
---
Peaceful Playgrounds Sell Sheet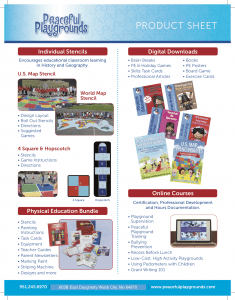 Peaceful Playgrounds has a variety of products.  The following represent some of the various individual stencils that are available: U.S. Map Stencil, World Map Stencil, hopscotch stencil, 4 square stencils and the basketball court stencil.  We also have digital products, online courses,  a recess program, a physical education program, a fitness court and trail, a walking/jogging track, a physical activity court, a pedometer program, and various other products for recess and physical education.
---