By Melinda Bossenmeyer,  Ed.D.
Playground Supervision
Serious accidents which occur in schools typically happen on the playground, and often playground supervision is a contributing factor.  In fact, approximately 200,000 accidents each year send children to the emergency room for treatment of an injury which occurred on the school playground. The following tips are designed to increase the quality of the playground supervision in your school, ensuring that children are safe on your playground.
1. Adequate  Playground Supervision
The National Program for Playground Safety (NPPS) recommends the playground supervision ratio of adult supervisors to children should mirror classroom ratios. If the class size is at 32, then there should be one playground supervisor for every 32 children. Yet, I rarely see this ratio maintained.
2. Staff  Training
Rather than thinking of "how many playground supervisors do I need", it might be best to think about sending qualified and trained supervisors to the playground. In my travels around the U.S., most playground supervisors report they have not received any training in how to supervise the playground. When a child is injured on the playground, one of the first questions an opposing attorney will ask is, "Were the supervisors trained?" It is generally expected they will receive training in how to effectively perform their duties.
3. Playground Procedure for Emergencies
After the Sandy Hook tragedy, parents are looking for schools to ensure students' safety inside and outside the classroom. Schools routinely conduct fire drills and other emergency drills monthly. Yet, few schools inform students of what to do, should an emergency situation occur when they are outside. Check with an administrator for procedures to follow in this situation and your role as a playground supervisor.
4. Communication with Office
Walkie-talkies or cell phones are some of the best ways for a playground supervisor to keep in communication with the office. At least one playground supervisor on the playground should have a means of contacting the office and getting assistance out to the playground. Some schools purchase walkie-talkies for this situation. Other schools designate someone to use their cell phone, should additional assistance be needed on the playground. It is important to point out that an adult should never leave children unsupervised on the playground, even in the case of an injured child. Call the office or 911 for assistance and direction.
5. Daily Custodial Inspections of the Playground
Schools are often used by outside groups in conjunction with "joint use agreements". It is not unusual for a school to offer an after-school program on campus, which may or may not be affiliated with the school. Additionally, sports teams and athletic leagues often use school fields for practices and games. When the general public is allowed on campus after hours, it is important for school personnel to inspect the field area each morning prior to students arriving. A quick sweep of the play area can ensure that broken glass or other hazardous materials are removed.
10-tips-PG-Supv
10-tips-PG-Supv.pdf
NOTE: if you have a popup blocker, please allow it permission to download the file.
Depending on your internet speed, your download should open in a new browser tab
between 3-10 seconds.
6. Choking Hazard
The Consumer Product Safety Commission (CPSC) has issued a warning regarding strings in hooded sweatshirts. Although this is less of a problem today than it was 5 years ago, some sweatshirts still tie around the wooded area and could result in a choking hazard, should the rope get caught on a play structure.  Removing the rope or string from the hood is a safe solution.
7. Supervisors Should Move Around the Playground
Playgrounds should be split into supervision zones. It is the role of the playground supervisor to move within their supervisor zone. Obviously, the number of supervisors may determine the number of supervision zones you implement. By splitting the playground into zones, it allows for better positioning for supervising. Supervisors should be positioned in different supervision zones, and supervisors should not be standing near to each other or conversing, as it draws their attention away from their assigned task.
8. Supervisors Are Not Play Facilitators
It is important to distinguish between the responsibilities and roles of playground supervisors and playground play facilitators. Playground supervisors have the responsibility of "keeping all children safe" on the playground. Play facilitators (on the other hand) have the responsibility of encouraging and leading games and activities. It is nearly impossible to effectively supervise students while also being tasked to organize games at the same time.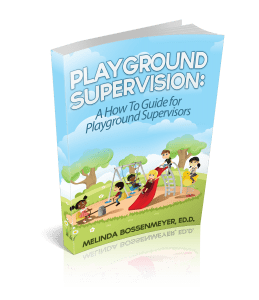 When an adult is brought in to supervise the playground and has little or no training, it is beneficial to have a Substitute Playground Supervisors' Guide available to them. This guide should list recess and lunch schedules, names of the administrator or supervisor to contact should assistance be needed, a listing of games rules, and playground rules and procedures, at the very least. ( A How-To Guide for Playground Supervisors includes a Substitute Playground Supervisors' Guide.  It is available for instant download upon purchase.)
10. Train Supervisors in What To Do Should an Injury Occurs
Playground accidents and injuries occur frequently on the playground. Some injuries require further medical attention by the school nurse or acting health clerk (sometimes the school secretary). When a student is injured, it is typically best to leave them lying on the ground until he/she can get up unassisted or additional personnel is called. Pulling a child up may cause further injury.
Dr. Bossenmeyer
is an expert witness when a child is injured at school. She points out that in 40% of injury cases, inadequate supervision is thought to be a contributing factor.
Related Feature Article
Playground Liability: Accident or Injury