Check Back Soon.

PEP grants were not funded for the 2015 year.  We will post updates and information as it becomes available.

Looking for an Award Winning PEP Grant Program?
The U.S. Department of Education's Office of Safe and Healthy Students manages the PEP grants and supports efforts to create safe schools, ensure the health and well-being of students, teach students good citizenship and character, respond to crises, and prevent drug and alcohol abuse. For additional information on the PEP grant program, visit http://www2.ed.gov/programs/whitephysed/index.html.
PEP – Physical Education for Progress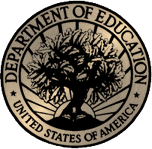 The Carol M. White Physical Education Program (PEP) provides grants to local educational agencies (LEAs) and community-based organizations (CBOs) to initiate, expand, and improve physical education for students in grades K-12. Grant recipients must implement programs that help students make progress toward meeting State physical education standards.
Everything you need to Succeed in applying for the 2013 PEP Grant!
We have compiled a list of documents and resources to assist you in applying for the 2013 PEP Grant.
Downloads include the 2013 PEP Grant Application, A Peaceful Playgrounds PEP Guide to assist you with application requirements and provide information on how Peaceful Playgrounds Programming meets the grant requirements.  The Peaceful Playgrounds PEP Guide includes a new competitive preference which asks applicants to address the 7 Design Filters.  Our guide does that for you.
For your convenience, we posted a Peaceful Playgrounds Programs Price Sheet to assist you with completing your PEP Budget.
A Key Considerations sheet is also posted to help you think through the requirement and commitment you're making.
The PECAT Assessment on our Programs is included for your review and completion.
A Standards Alignment Matrix on each Peaceful Playground Program will also help with meeting the PEP grant requirements of instructing students on meeting State Physical Education Standards.
So what are you waiting for?  Get started.  Let us know if we can assist you further.
Free Assistance in Writing your Grant Application!

The Peaceful Playgrounds Program is the perfect solution to ensure a successful government PEP playground grant application.  Sign up Now and use our experience to write a winning application for your district.
2013 PEP Grant Requirements
The 2013 PEP Grant Has 5 Priorities.  There are also required Performance Measures that you should consider in in deciding to apply for the grant.  We have identified download links for required documents within each section below.
Estimated Range of Awards: $100,000-$750,000.
Estimated Average Size of Awards: $375,000.
Estimated Number of Awards: 95.
Submission Dates and Times:
Applications Available: February 26, 2013.
Deadline for Transmittal of Applications: April 12, 2013.
Applications for grants under this program must be submitted electronically using the Grants.gov
Need assistance with writing your PEP Grant?  We CAN HELP!  PEP Grant Writing Assistance Information.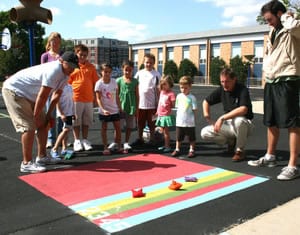 As part of a two-year Carol A. White federal grant for improving physical fitness for students in grades kindergarten t
hrough fifth, each of the eight District 112 elementary school playgrounds has been painted with colorful shapes and lines.
PEP Grant Writing – Working with Winners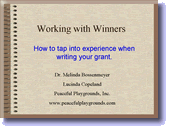 View our presentation from the Winning Grants Conference in South Carolina. Working with Winners: How to tap in on experience when writing your PEP Grant.
Below is a list of the 67 grantees:
| | |
| --- | --- |
| Alaska | |
| Alaska Gateway School District | $469,262 |
| Alabama | |
| Gadsden City Board of Education | $368,908 |
| Walker County Board of Education | $729,753 |
| Arkansas | |
| Mansfield School District 76 | $160,000 |
| Arizona | |
| San Carlos Unified School District | $578,221 |
| California | |
| California Health Collaborative | $644,351 |
| Youth Policy Institute | $750,000 |
| Mission View Public Charter School | $256,764 |
| Kids Moving, Inc. | $602,760 |
| Alta Vista Public Charter Inc. | $427,942 |
| Inner City Education Foundation (ICEF)Public Charter Schools | $845,138 |
| Colorado | |
| School District No. 1 in the City and County of Denver | $508,006 |
| Connecticut | |
| Capitol Region Education Council | $350,452 |
| Florida | |
| The School Board of Broward County, FL | $950,949 |
| Caridad Center, Inc. | $600,146 |
| Idaho | |
| Moscow School District No.281 | $452,654 |
| Illinois | |
| Matteson School District 162 | $242,470 |
| Woodstock Community Unit School District 200 | $550,190 |
| East St. Louis School District 189 | $635,985 |
| Indiana | |
| Evansville Vanderburgh School Corporation | $384,563 |
| Kansas | |
| Boys and Girls Clubs of Topeka | $272,480 |
| Kentucky | |
| Fleming County Schools | $343,709 |
| Danville Independent School District | $379,796 |
| Menifee County School District | $260,261 |
| Ashland Independent School District | $214,843 |
| Louisiana | |
| Madison-Tallulah Education Center | $573,202 |
| Massachusetts | |
| Somerville Public Schools | $613,554 |
| Brockton Public Schools | $645,264 |
| Maine | |
| Healthy Community Coalition | $727,772 |
| Michigan | |
| Kent Intermediate School District | $429,404 |
| Lansing School District | $715,726 |
| Minnesota | |
| Waubun-Ogema-White Earth Community Schools | $172,052 |
| Hendricks Public School | $420,408 |
| Mississippi | |
| Simpson County School District | $496,618 |
| Montana | |
| Shepherd Public Schools | $351,802 |
| Hays Lodge ole School District 50 | $390,684 |
| North Dakota | |
| Divide County #1 School District | $690,869 |
| Nebraska | |
| Educational Service Unit #1 | $494,356 |
| Educational Service Unit #6 | $760,419 |
| New Mexico | |
| The Grant Experts, dba: Capacity Builders, Inc. | $718,465 |
| New York | |
| Holley Central School District | $441,840 |
| LeRoy Central School | $445,037 |
| St. Christophers Incorporated | $577,861 |
| Clyde-Savannah Central School District | $358,468 |
| I Challenge Myself, Inc. | $219,622 |
| Olean City School District | $409,217 |
| Lewiston-Porter Central School District | $701,703 |
| Ohio | |
| Lake County General Health District | $746,436 |
| Oklahoma | |
| Putnam City School District 1-001, Oklahoma County | $734,222 |
| Schools for Healthy Lifestyles, Inc. | $934,767 |
| Keys Public Schools | $607,828 |
| Checotah Public Schools | $450,716 |
| Pennsylvania | |
| Keystone Central School District | $280,570 |
| Archway Charter School of Chester, Inc. | $750,010 |
| The School District of the City of Erie, PA | $582,627 |
| Shamokin Area School District | $537,167 |
| South Dakota | |
| DIAL/MCEC | $429,680 |
| Tennessee | |
| Boys & Girls Clubs of the Tennessee Valley | $509,412 |
| Texas | |
| Harlandale Independent School District | $750,000 |
| Utah | |
| Salt Lake City School District | $529,811 |
| Wisconsin | |
| Unity School District | $375,151 |
| West Allis-West Milwaukee School District | $857,413 |
| Lake Geneva Jt#1 Elementary School District | $281,641 |
| Pittsville School District | $442,525 |
| Riverdale School District | $391,699 |
| Highland School District | $359,816 |
| Mukwonago Area School District | $446,041 |