Brochures for Peaceful Playground Programs
Get the latest copy of our brochures featuring all three of our award-winning playground and student wellness programs. The Peaceful Playgrounds Recess brochures, the Fundamental Movement Brochures, the Fitness Fun Zone brochures, 2 Go Game Brochures, and our online learning brochures.
Join Schools, PTAs, Principals, Recreation Departments, Health Departments, Park Districts and others across the country in adopting these award-winning programs that reduce conflict and help kids be more active and involved.
Download your own copy of our 6-page Peaceful Playgrounds Program brochures and introduce all your playground staff to the features and benefits of this award-winning program.
Design permanent playground activities that help make activity time more positive and productive: alphabet and number grids, hopping and skipping lines, and multi-use circles and squares are just a few of the nearly 100 activities that can be added. The program is intended to maximize the number of students involved in physical activity, rather than having them wait in line, or just stand around talking.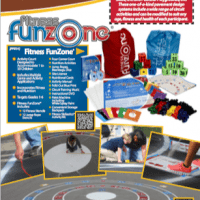 A one-of-a-kind evidence-based physical activity court designed to accommodate 1 to 50 individuals of various fitness abilities.
This Fitness Fun Zone outdoor court includes multiple games and activity applications that incorporate fitness and nutrition.
Schools will appreciate the ease of monitoring the activities that address NASPE Fitness Standards 3 &4 in a manner that's both effective and efficient.
Ten minutes is all you need to customize your fitness in a variety of ways that allow for the maximum to vigorous physical activity!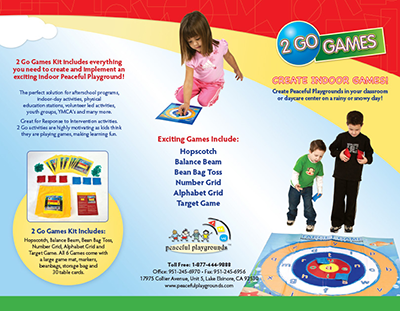 The new 2 Go Indoor Games Program Kit includes everything you need to create and implement an exciting indoor Peaceful Playground activity in your classroom, church or daycare center. The perfect solution for after school programs, rainy/snow day activities, physical education stations, volunteer-led activities, youth groups, YMCA's and much more.
Fundamental Movement  Program is a School PE Program for preschool and primary children. It is a complete curriculum from which to teach from.
Fundamental Movement Program allows you to create an outdoor motor learning lab for preschool children. An easy, do-it-yourself layout plan transforms your play space into a colorful arrangement of learning games and motor skills activities.
The Fundamental Movement Program Kit allows you to design a custom play space, with permanent, painted-on activities that help make play and motor skills time a fun learning environment.
This course is designed to meet legislative bullying prevention training requirements for school staffs.
The course will:
1. define bullying as prescribed by law, 2. give an overview of state legislative requirements, 3. provide teacher and staff training on responding to bullying and 4. will give guidance to the district, school and staff responsibilities as defined by legislation.
The Peaceful Playgrounds Online Playground Supervisor Training is designed to introduce administrators, teachers, substitute teachers, physical educators, parents, after-school personnel, and playground supervisors to the responsibilities and techniques associated with keeping children safe on a playground.
This course details playground surfacing, play structure safety, and playground supervision.
The course highlights legal supervision responsibilities and "how to keep kids safe".