The Fitness FunZone Trail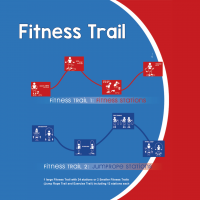 The Fitness Fun Zone  Fitness Trail has 24 stations which can be configured to meet your needs.  You can make a huge 24 station fitness trail utilizing all 24 station stencils or 2 smaller 12 station trails.
The 12 jump rope stations include: Bell, Basic jump, skier and straddle cross jumping to name a few.
The permanently painted fitness trail stations means you won't be carrying those large orange cones out to the playground with station cards that fly away and get lost.
Fitness FunZone Trail in Action.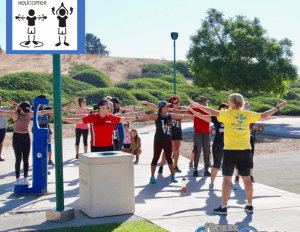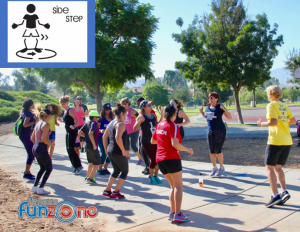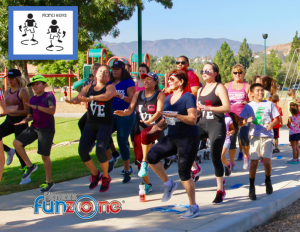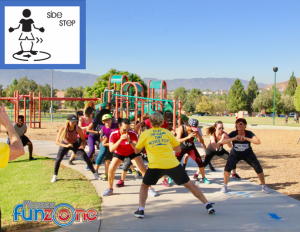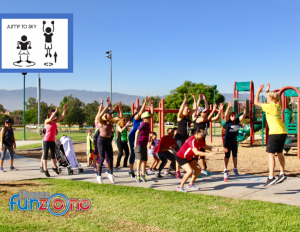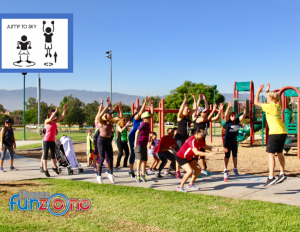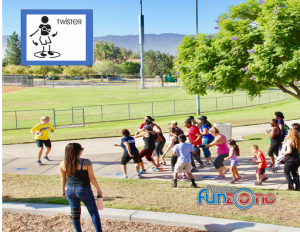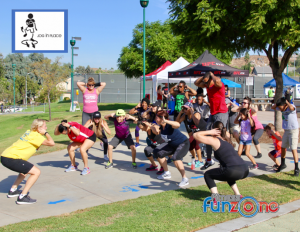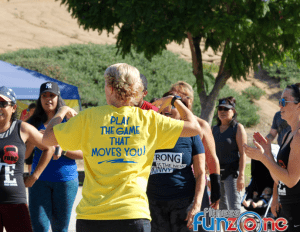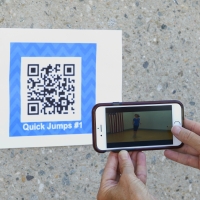 One of the best strategies for getting children more active is to change the environment making physical activity easy and convenient.  The Fitness Fun ZoneTrail does just that and better yet– it is inexpensive and permanent.
Mix and match stations to meet your needs and the skill level of children.  You may choose to paint the fitness stations in one color and the jump rope stations in another and alternate activities on alternate days for variety and motivation.
The Fitness Fun Zone Trails comes with a QR code sheet to scan with a smartphone and see a demonstration of each station activity. Some locations choose to put the QR codes on a sign and post the QR codes so that the are readily available so the community can use the Fitness Fun Zone Fitness Trail after school hours.
This page has a sampling of the QR Codes to scan and a sample design for how to layout your trail.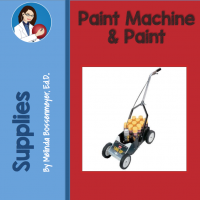 Our paint machine can be used on asphalt, cement and grass areas. The coordinated machine and paint work together to provide crisp, clean lines and bold marks quickly and professionally.
This high-quality paint striping machine features 7″ wheels to provide a smooth ride on hard surfaces, such as concrete and blacktop. Engineered and designed for easy operation and durability.
18-gauge all-steel construction
12-can storage
Stripes widths of 2″ to 4″
In addition to the paint machine, you will receive 6 cans of "commercial quality" white spray paint for striping game outlines.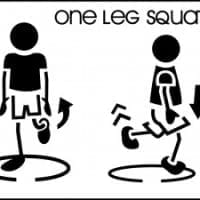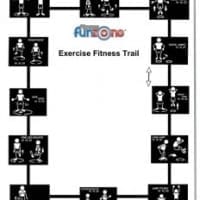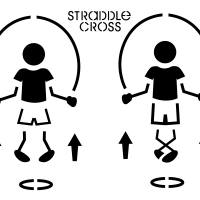 Fitness Fun Zone Brochure 2017
FFZ-Brochure.pdf
NOTE: if you have a popup blocker, please allow it permission to download the file.
Depending on your internet speed, your download should open in a new browser tab
between 3-10 seconds.