Recess Stencils
Recess Stencils can add a variety of games and activities to the school playground.  Best of all, the playground stencils are not only utilitarian but also aesthetically pleasing to school age children. The Peaceful Playgrounds recess stencils were developed with the goal of providing students with age-appropriate games and activities that would get children physically active.
In response to the many requests for carrying individual recess stencils we now offer some of our most popular playground stencils for purchase.  Although we will not sell any of our licensed proprietary stencils we have added three generic playground stencils that you will find on many playgrounds.   In addition to our U.S. Map and World Map Stencils, we also carry a hopscotch stencil, a four-square stencil and a regulation basketball court stencil.  You can find more information about how to apply the stencils and painting instructions on our painting playground markings resource page.
The U.S. playground map stencil is one of our most popular stencils.  The full-size roll-out stencil comes complete with painting instructions, paint suggestions, playground preparation for placing the stencil and a suggested games guide for the U.S. Map.

The World Map Stencil comes with complete instructions & paint specifications. The eight section stencil has holes which define detailed borders of the continents, countries, oceans and largest lakes of the world. Covers an area 20′ x 36′.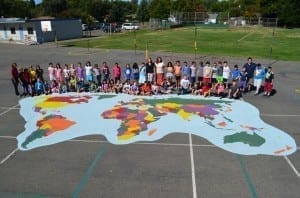 Select from two Recess Stencil Packages.  The PE and Recess Stencil Package or the Playground Stencil Package.
The PE and playground stencil package comes with 10 different game stencils that can be added to the K-6 playground.  The Recess Game Stencil Package comes with 6 recess games and activities.
Recess Stencil Package and the Recess Educational Stencil Package.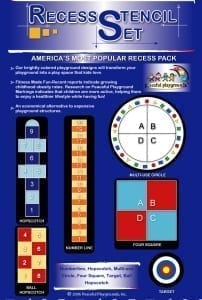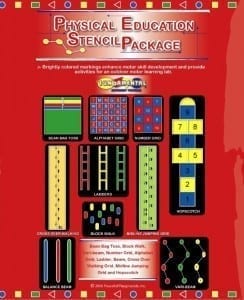 Playgrounds offers a variety of individual recess stencils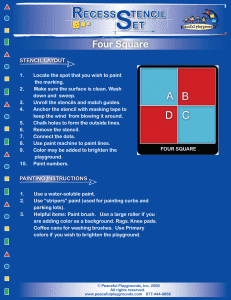 Four Square Recess Stencil Stencil: Our Four Square Playground Stencil is a full-size court with layout instructions and suggestions, as well as, game instructions for four square. Roll out stencils make it easy to chalk in and line a four-square court.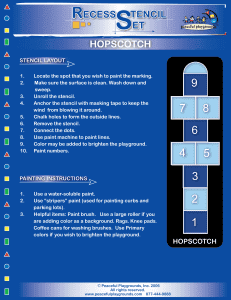 Hopscotch Stencil: Another popular stencil that can be found in most school playgrounds is a hopscotch stencil.  Our full-size stencil makes painting and laying out the court easy and quick.  The stencil comes with a set of numbers 1-9 and game rules for playing hopscotch.  View our How to Paint Hopscotch video below for seeing for further instructions.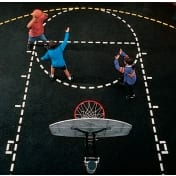 Basketball Court Stencil: The regulation basketball court stencil provides for an accurate key forming a shooting range from both the 2 point  line  and the 3 point line.  The basketball court stencil includes layout and painting instructions.  The paper stencil eliminates measuring.