Fundamental Movement  Program is a School PE Program for preschool and primary children. It is a complete curriculum from which to teach from.
Fundamental Movement Program  allows you to create an outdoor motor learning lab for preschool children. An easy , do-it-yourself layout plan transforms your play space into a colorful arrangement of learning games and motor skills activities.
The Fundamental Movement Program Kit allows you to design a custom play space, with permanent, painted-on activities that help make play and motor skills time a fun learning environment.
The following list of products will assist you in providing your students with a high-quality motor skills curriculum.
 PE Program Kit
 Component #1- Perceptual Motor Development Guide
A skill development movement program for preschool and elementary teachers.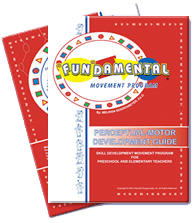 This guidebook contains the ingredients of a uniquely designed motor development program for early childhood and elementary school-age children. This skill-based guide was designed for quick reference and is filled with activities that kids love.
Teachers will appreciate the checklists and award certificates which aid in monitoring student progress in the areas of Balance; Body and Space Awareness; Eye-Foot Coordination; Hand-Eye Coordination; Jumping and Sequencing, Locomotor Movements; Social Skill Development; Small Motor Coordination; Total Body Coordination and Skill Development.
This complete package of Objectives, Instructional Tips, Activities, Checklists and Award Certificates will add both fun and flair to your program.
Component #2 – Outside Learning Lab
Unlike any other program, the Fundamental Movement Program offers unique markings that can be painted on the blacktop that enhance children's motor development.
The Fundamental Movement Blueprint is designed for early childhood to grade two students.
The Blueprint has suggestions for painting, placement, and recommended game markings for your asphalt playground layout.
Component #3 – Motor Skills Task Cards
Motor Skills task cards make teaching outside convenient for the teacher and motivating for students.
Component #4 – Staff Development Materials
A PowerPoint presentation is included with the Fundamental Movement program so that new staff members can be brought up-to-date on program components, teaching strategies, instructional tips, and the equipment needed.
Component #5 – Parent Newsletters
Monthly parent newsletters designed to inform parents of the contribution motor skills makes to the overall development of the child.
Monthly topics include:
"We've Been Having Fun" a description of the skills taught during the month; Fun games to practice at home, suggestions for games parents can play with their child and background information on the monthly theme.
Component #6 – Physical Activity Exercise Cards
This set of 12 animal activity cards is designed for anaerobic fitness circle which motivates kids to get moving.
The fitness circle activities include: hopping, skipping, toe touches, etc. around hula hoops laid out on the ground. Music contributes to a fast paced fitness circuit kids love. Individual classroom or school sets are available.
7. PE Equipment Set
A comprehensive set of almost 200 pieces of playground equipment that will help you implement your Fundamental Movement Program.
Your Fundamental Movement Program Kit includes several activity guides with dozens of games and activities.
8. PE Roll Out Stencil Set
New roll out stencils makes application a breeze. No measuring! Just roll out the full-size activity stencils, chalk, and paint. Two easy to apply sets to choose from. Brightly colored markings enhance motor skill development and provide activities for an outdoor motor learning lab.
 Physical Education Stencil Set includes:
10 markings for teaching physical education concepts – Ladder, Vari-Beam, Block Walk, Midline and Crossover Walking Grids, Beam, Hopscotch, Beanbag Toss, Alphabet and Number Grids
All stencils arrive complete with full game rules and lots of activity suggestions.
The Recess Stencil pack is also available.  It saves you the time of measuring out the games is our Roll Out Stencil Pack which includes the roll out stencils for our most popular recess games including multi-use circle, four square, number line, hopscotch, target and ball hopscotch.
9. Playground Detail Stencil Set
To assist you with the time-consuming detail work of painting the playground, stencils are included in the program kit.
10. Striping Machine & Paint
Our paint machine can be used on asphalt, cement and grass areas. The coordinated machine and paint work together to provide crisp, clean lines and bold marks quickly and professionally.
This high-quality paint striping machine features 7″ wheels to provide a smooth ride on hard surfaces, such as concrete and blacktop. Engineered and designed for easy operation and durability.
18-gauge all-steel construction
12-can storage
Stripes widths of 2″ to 4″
11. PE Program Site License
The contents of the Peaceful Playgrounds Program are protected by trademark and copyright laws. All documents and materials in the program kits are licensed for use at a single school site only. Materials must be purchased for each physical address where they are to be used.
Recess Stencil Package (Add-On)
Also available for additional purchase is The Recess Stencil pack is also available.  It saves you the time of measuring out the games is our Roll Out Stencil Pack which includes the roll out stencils for our most popular recess games including multi-use circle, four square, number line, hopscotch, target and ball hopscotch.