Easy to apply school playground stencils
Roll-out school playground stencils  make application a breeze. No measuring! Just roll out the full size activity stencils, chalk and paint.  A real customer favorite!
Non-Licensed School Playground Stencils
Four Square, Hopscotch,  Basketball Court Key, US Map and World Playground Map Stencils are all non-licensed school playground stencils sold through Peaceful Playgrounds.  The remainder of our designs are all copyrighted and a site license is issued for painting them on your playground.
We now sell individual stencils for the Hopscotch,  Four Square, Basketball Key, US Map Stencil and the World Map Stencil.  Five stencils to choose from.  Check them out and see how easy they are to install.  No measuring.   Unfold the stencil, chalk dots, connect the dots and paint.  (*Note-  Do not use paper stencils on a windy day or in late afternoon do to windy conditions.)
Our Newest School Playground Stencils

The four square stencil comes with 16 large pieces of paper with holes to chalk the outline of a square and move paper to repeat the chalking 4 times.  Add the letters A, B,C, D from the enclosed stencil. It's easy, quick and no need to measure.  A real favorite of students grades 3-6.
$74.99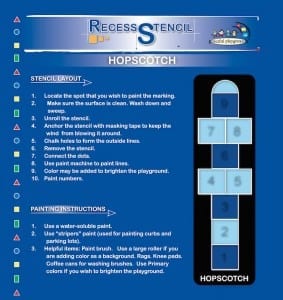 The hopscotch stencil is one piece of large paper for the court.  Dots outline the court and then you connect the  dots,  and paint inside the squares.  Need more than one hopscotch court?  No problem move the paper to the next spot for the court and repeat.  Hopscotch is a child favorite grades 1-3.  
$49.99


The regulation basketball key  provides for an accurate shooting range from both the 2 point  line  and the 3 point line.  Easy to install.  No room for a full basketball court?  No problem.  Install shooting keys with this economical stencil.
$49.99

This geographically and proportionately accurate map of the United States is  an easy to apply school playground stencils and can be painted by four adults and 10 children in three hours.
Complete instructions with paint specifications.
The affordable, high quality, eight section single use paper playground stencils has holes which define detailed borders of the 50 states and the five Great Lakes.
Continental U.S. (48 states) covers an area 16′ x 27′
Large Alaska – 161×135", Small Alaska – 72×60", Hawaii – 48×30"
Scale 1 foot = 100 miles.
Encourages Educational Classroom Projects in History, Economics, Geography and Politics.


$199.99

---
---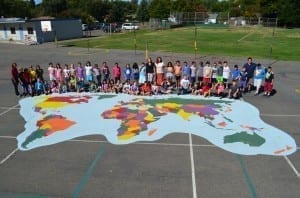 This easy to use school playground stencils package allows you to create a huge world mural that can be painted by four adults and ten 2nd – 4th graders in three hours.
Complete instructions with paint specifications.
These affordable, high quality, eight section single use paper  playground stencils has holes which define detailed borders of the continents, countries, oceans, and the largest lakes of the world.
World Map covers an area 36′ x 18′
Scale 1 meter = 400 km.
Encourages Educational Classroom Projects in History, Economics, Geography and Politics.


$199.99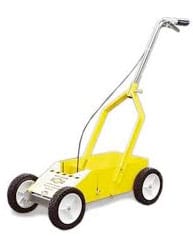 Paint Striping Machine and Paint
Our paint machine can be used on asphalt, cement and grass areas. The coordinated machine and paint work together to provide crisp, clean lines and bold marks quickly and professionally.
This high quality paint striping machine features 7″ wheels to provide a smooth ride on hard surfaces, such as concrete and blacktop. Engineered and designed for easy operation and durability.
18-gauge all-steel construction
12-can storage
Stripes widths of 2″ to 4″
The paint machine also includes 6 cans of commercial quality striping paint.
$249.99

School Playground Stencils Set
Two easy to apply sets to choose from. Brightly colored markings enhance motor skill development and provide activities for an outdoor motor learning lab.
Recess Set includes:
6 of the most popular recess game markings – Multi-use Circle, Hopscotch, Ball Hopscotch, Ball Target, Number Line and Foursquare.All stencils arrive complete with full game rules and lots of activity suggestions.
To assist you with the time consuming detail work of painting the playground, stencils are included in the program kit.
The complete set of 41 durable plastic stencils includes:

Letter Set (A – Z)
Number Set (0 – 9)
Shape Set (Circle, Square, Rectangle, Triangle)
Feet Grid (1 Piece with 2 feet)

Stencils are made of plastic and are appropriate for use at one school site. They are approximately 8" x 12" high in size when cut out.

All 41 playground stencils are included with the complete Peaceful Playgrounds Program Kit.
Playground Stencil Success Stories
Teachers and 4-H members at W. W. Stewart Elementary School recently painted a United States map on the back patio of the school playground. Upon arrival to school the next morning, students were mesmerized by the site and have continuously played games on the map. There is little playground equipment at the school, and this map gives students an option that is both educational and fun. Teachers also use this map to reinforce lessons on the states and regions of the United States. By having resources such as this map available to them, teachers are able to enhance the education of all students at the school.
I want to thank you for helping me with the stencil. I'll tell you what if I didn't have a stencil I would still be working on it now. The stencil was a lot of help and the Eagle Scout project was a great success. Your company was very helpful in giving me the things I needed and helping me with everything. The stencil was easy to use and created a great teaching tool for the students. Thank you very much – Matt Molle
Two Tracy Girl Scouts are Golden
---
The stated mission of the Girl Scouts is to build confidence, courage and character while making the world a better place. On May 22, the organization will recognize two Tracy girls who delivered on this promise. Elizabeth Holtz and Heather Stegner will receive the Girl Scout Gold Award, the Scouts highest honor. Holtz chose to decorate the South/West Park Elementary School playground using stencils and other materials from the Peaceful Playgrounds project. She acquired stencils from the organization, then measured and painted a colorful series of lessons and games around the playground. "They help the children get along better and resolve conflicts," explained Holtz, who will attend UCLA this fall… more
Malcolm Maclachlan – The Tracy Press
Map of the United States earns Award for Girl Scouts
Troop leader Denise Martin said "After discussing several ideas we chose painting the map of the United States at the local elementary school, Boone Trail." The PTA was very enthusiastic and was a great resource in implementing our project. The stencil for the map was purchased by Boone Trail's PTA from Peaceful Playgrounds. The process involved laying down large stencils with dots outlining the state. "Then we connected the dots. It was pretty amazing to see that it actually worked," Martin said. .
Linda Meyer – St. Louis Post-Dispatch

Elementary Students Sing the States
Teachers, students, and PTO members at Grand Avenue Elementary recently finished a Fifty Nifty United States project. They produced a painted outdoor map of the United States. The concrete was provided for this large outdoor map of the United States by the Grand Avenue PTO. Peaceful Playgrounds stencils and kit were made possible by the Chickasha School Foundation. Now students are able to sing regional songs and walk through each region while working on their states and capitals. This map will be used school wide to explore geography that is related to every grades Priority Academic Student Skills (PASS) which is Oklahoma's core curriculum. It is an excellent resource for students to learn outside of the classroom. Oklahoma – The Express-Star
Related Article on School Playgrounds