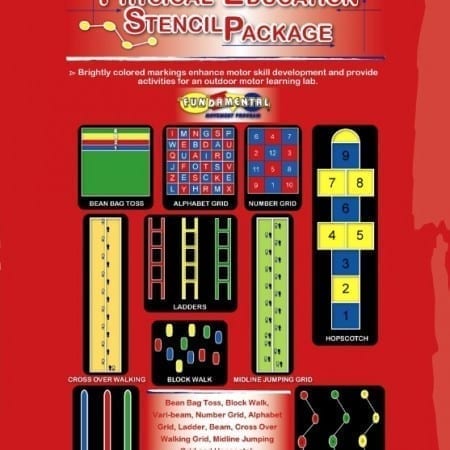 Roll-out playground stencils make application a breeze. No measuring! Just roll-out the full size playground stencils, chalk and paint. Brightly colored markings enhance motor skill development and provide activities for an outdoor motor learning lab or recess games.
Hurry these stencils will go fast and are a sale item only while quantities last.
Playground Stencils
Fundamental Movement Program Playground Games Stencils assist you with the time consuming detail work of painting the playground.
Physical Education Set includes:
10 markings for teaching physical education concepts – Ladder, Vari-Beam, Block Walk, Midline and Crossover Walking Grids, Beam, Hopscotch, Beanbag Toss, Alphabet and Number Grids.
All stencils arrive complete with full game rules and lots of activity suggestions.
* Please note the roll-out stencils are paper to keep your costs down.