Girl Scout using playground stencils to create school U.S. Map
By Malcolm Maclachlan
Tracy Press – Tracy, CA
May 21, 2005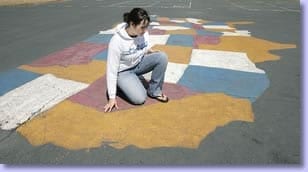 The stated mission of the Girl Scouts is to build confidence, courage and character while making the world a better place. On May 22, the organization will recognize two Tracy girls who delivered on this promise.
Elizabeth Holtz and Heather Stegner will receive the Girl Scout Gold Award, the Scouts highest honor. In order to reach this goal, both 17-year-old high school seniors have to fulfill a years-long list of requirements, then carry out a project entailing at least 65 hours of work that benefits the wider community.
Holtz chose to decorate the South/West Park Elementary School playground using playground stencils and other materials from the Peaceful Playgrounds project (www.peacefulplaygrounds.com). She acquired playground stencils from the organization, then measured and painted a colorful series of lessons and games around the playground.
"They help the children get along better and resolve conflicts," explained Holtz, who will attend UCLA this fall.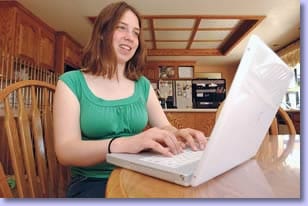 Stegner helped establish a volunteer program for the Tracy Hospital Foundation. This included creating recruitment and training material, along with a database to keep track of volunteers.
One of her main goals was to help provide workers for the foundation's annual Festival of Trees. The November fundraiser helps the hospital provide for many of its year-round needs, including its CPR training program.
"I knew they'd had problems finding volunteers in the past," said Stegner, whose family has been active in hospital charities.
In reaching the Gold level, Holtz and Stegner have achieved a goal that most girl scouts never reach. The two are members of Tierra del Oro Girl Scout Council, which serves 14 counties in Northern California.
Out of a total of 26,000 girl scouts represented by the Council, only 47 Tierra del Oro scouts will get the Gold Award this year. For instance, Stegner said she started scouting with the Daisies — the level below Brownies — when she was only four. Over the years, she said, most of the girls dropped out. Those who stayed were the ones who were serious about scouting and community services.
"When you get into the Girl Scouts, a lot of troops combine into one," she said.