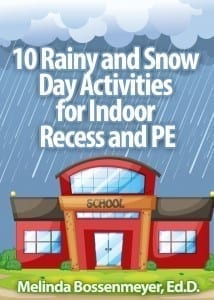 I've scanned the list of activities that could be conducted for indoor recess or physical education activities on inclement days.
---
Indoor Activities for Getting Kids Active
ABC for Fitness –
Their stated mission is to provide a fun, simple, engaging, no-cost, effective activities that encourage physical activity in the classroom. The program is FREE and comes in PDF format. It provides research on why physical activity is important, classroom management tips for kids moving indoors, and tips for warm up and cool down procedures. Many activities have students standing by their desk and are conducive to a student leading the various activities designed for K-5. Some activities include: Wiggles, The Twelve Days of Fitness, and Let's Swim. Another section identifies activities that integrate with language arts and math concepts called physical activity learning or "learning by doing". Most activities are teacher or leader lead but this could provide an opportunity to send other students to younger classrooms to lead activities.
Energizers: Classroom–based Physical Activities – Activity Promotion Laboratory and East Carolina University College of Health and Human Services.
The goal of the Activity Promotion Laboratory is to promote active lifestyles. The document includes a Healthy Active Children Resource Sheet and tips for Creating a Physically Active Classroom Atmosphere. Energizers are designed for K-5. Some activities include Heart Smart, Stop, Drop and Roll or Rescue 9-1-1.
Energizers are available for a free PDF format download at:
Download at East Carolina University- Activity Promotion Laboratory
Jam a Minute School Program – Health-E-Tips.
The goal of the Health-E-Tips program is to help kids make an impact on combating childhood obesity. The website requires that you sign up. The JAM School Program brings physical activity and health education into the classroom. JAM is designed to teach kids (and adults) healthier lifestyle habits. JAM is a free wellness resource for schools. JAM resources offer a weekly one-minute exercise routine called JAMmin' Minute, an athlete-featured more extensive routine called JAM Blast, and a monthly health newsletter called Health-E-tips. According to the website, the program can be lead by a JAM leader or student appointed "Drill Sergeant" of the week.
Indoor Recess Games – Proteacher.
This website has a number of indoor games for recess. Proteacher identifies these activities as "fun ideas for what to do when recess is in the classroom." Indoor games can be printed out from the website. They are free resources. Each game idea is an open thread where other teachers write in to add their game ideas and game modifications.
Peaceful Playgrounds 2 Go Games –
Peaceful Playgrounds 2 Go Game rugs are available for purchase and allow you to take some of the more popular outdoor games and markings indoors. Six game rugs are currently available including Alphabet Grid, Number Grid, Hopscotch, Balance Beam, Bean Bag Toss, and Target. All games include a number of academic activities that go with the movement activities.
Download documents in  English, Spanish and French.



School Recess and Group Classroom Behavior – Pediatrics 2009;123;431-436, Romina M. Barros, Ellen J. Silver and Ruth E. K. Stein http://pediatrics.aappublications.org//cgi/reprint/123/2/431
National Association for Sport and Physical Education. November 2010 Teacher Tool Kit.  Integrating Physical Activity into the Complete School Day
The complete report with active links to the 10 activity resources is available through Amazon Kindle.
For a deeper dive into Recess and Physical Education Resources visit our Member's Library.  It's FREE.