A Community Playground Project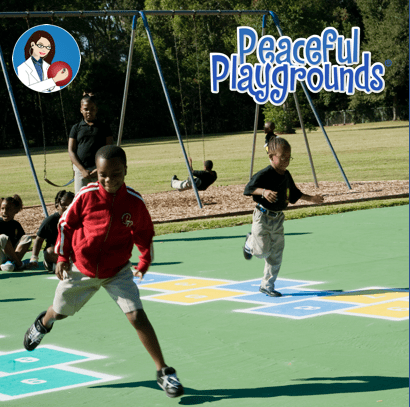 Last summer, I spent 5 days in Baton Rouge, Louisiana during the height of summer, in a record setting heat wave painting playground games on the blacktop. One of those days it was a mere 105 degrees.  What we do for education……
Beside me was a colleague named Tom Grover, the CEO of a playground structure company called Kompan. He flew in from Washington State and I flew in from Southern California.
Approximately 5 hours into my painting and his installing a Free Game Court, as both of us were dripping wet with sweat from the record heat and humidity, he turned to me and ask with a huge grin, "Hey Bossenmeyer, what's the Ph.D. doing for you now?" We both laughed, as did the other volunteers working alongside us.
Teamwork is the ability to work together toward a common vision, the ability to direct individual accomplishment toward organizational objectives. It is the fuel that allows common people to attain uncommon results.
This sets the scene for only 2 of the over 1000 volunteers who worked for a week to rebuild and transform a Louisiana elementary school, which had been taken over by state controllers for failing to make adequate academic progress for 3 consecutive years. The transformational project was part of a new reality TV show airing on NBC called "School Pride."
The experience was indeed a memorable one for a variety of reasons, besides the heat and humidity. The impetus for our coming together was generated by an invitation to both improve the school, but also to participate in a one-time unique experience of participating in a TV show and viewing production first hand.
People are willing to be paid more to be amused than educated
54 Year Old Lanier Elementary Playground in Disrepair
Lanier School, the school site which we were working on, is 54 years old, and like many schools across the nation, was literally falling apart. The one antiquated and inadequate
air conditioner did not work. The lunch room did not have the means to serve hot food. The play yard was void of anything that looked fun and was generally in disrepair. Classrooms were made up of a hodgepodge of old desks or tables and chairs that did not match.
The buildings themselves were peeling paint, the roofs leaked, and sidewalks were filled with large cracks. Meritocracy (SP) prevailed.
As I first arrived at the school, an observation by Robert Savage popped into my head, "people are willing to pay more to be amused than to be educated."
At this point, not being able to visualize the possibilities or comprehend the goal of the 7-day transformation, I had my doubts about whether there would be a successful outcome for any of us. My experience as a career educator inside the system taught me that in education, nothing happens quickly, especially with correcting facilities issues.
Education is too important to be left solely to the educators
Lanier Elementary Transformed into a Peaceful Playground
But much to my surprise, as we started our mission, I began to see small glimmers of sparkles occurring. A local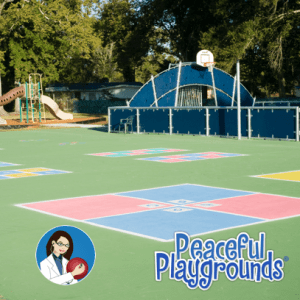 artist worked alongside us, painting an inspiring mural outside the kindergarten classrooms. The antique air-conditioner was replaced. Open piping and electrical wires were covered with a drop down ceiling and new lighting was installed. The hallways were spruced up with fresh paint.
The school logo was added to the entry way, presenting inspiration and a colorful welcome to students and community members approaching the school. Trees were trimmed, sod brought in and bushes trimmed. And here's the kicker. Supplies were donated from companies and work performed by volunteers answering a call for assistance.
The aim of education is the knowledge not of fact, but of values
Volunteers Show their School Pride
Chatting with the volunteers, I often asked, "Why are you here? "Missy Fleshman, the recent college graduate said,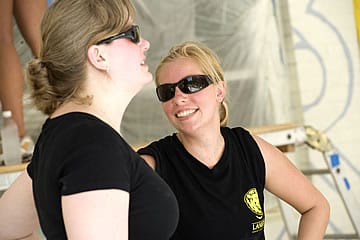 "I thought it would be fun and I often volunteer. I love kids and hope to work with them in some way. I don't know when or how but I thought this would be a good experience."
I had the pleasure of working with two of the schools' custodians. They were two of the hardest working individuals I've had the pleasure of meeting in my 27-year public school career. When I asked Kevin Hughes why he had volunteered, he responded, "I went to school in the area. I work here now. This is my school." His statement says it all.
A father and son were working together one afternoon. It was the end of a long day and most volunteers had wandered off for cold water and a little much deserved shade. The father and son lingered behind washing paint brushes and rollers and performing general clean up. I asked the dad, "What do you do?" He told me "I'm an attorney at the State Capitol." What brought you here?" I asked. "I'm a member of this community and it is important to me to teach my son that volunteering and participating in events such as this are important." It was clear he was truly his son's first teacher and believed in "teaching by example."
Follow the teachers Lanier
Elementary Students Learned by Example
The theme of the show was "Follow the Teachers". Lanier Elementary is a school predominately staffed with Teach for America Teachers. Rebuilding the school would not have been possible without the teachers' involvement, direction, enthusiasm, appreciation, and input. Many teachers worked all day every day. Students often participated alongside their teachers.
I would venture to say that students learned more in those five days than inside any classroom.
What is the value of observing your teacher dig in and assist in a school's transformation? I think the answer lies in the following poem.
The teacher.
No written word no spoken deed
Can tell the kids what they should be,
Nor all the books on all the shelves,
It's what the teachers are themselves.
The Happy Ending
You're probably wondering how it all turned out?
If the goal was to rebuild a school facility, the pictures and video footage attest to a reinvented school facility. A clean crisp school with matching desks, new books, new computers, a new gymnasium, and new cafeteria are now in the place of the old dilapidated facility. Other improvements included trimmed trees, new playground, and a new teacher's meeting room.
If the goal was to engage a community in rebuilding and pride of the community, that was accomplished too. Inside and outside the school grounds individuals, families and businesses collectively came together to correct the neglect of the last half century.
If the goal was to educate children, then the process of the school's reinvention taught students some important lessons:
Their community values education.
To take pride in their school.
Teamwork works. They observed the greater community working together with the school community toward a common purpose. They learned that the larger community can provide what the education community was not able to accomplish for half a century.
Perhaps the most important lesson I learned is described by Mark Twain, "Never let formal education get in the way of your learning." I also learned that when we direct individual contributions toward a common purpose, then common people can attain uncommon results. In short, teamwork works when remodeling a school or building community.