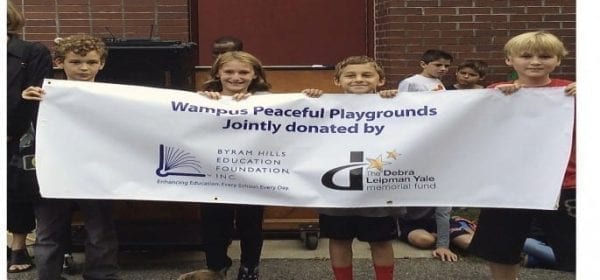 Peaceful Playgrounds Provides and Improved Recess Experience
The Byram Hills Education Foundation, Inc. (BHEF) and the Debra Leipman Yale Memorial Fund (DLYMF) recently announced the opening of the new Peaceful Playground recess program at Wampus Elementary School in Armonk. A ribbon-cutting ceremony marked the occasion which was attended by the entire third, fourth and fifth-grade student body and staff, Principal Debra Cagliostro, Byram Hills Superintendent Dr. William Donohue, BHEF Chairman Scott Levy and President Wendy Zepf.
The Peaceful Playground was made possible with a grant awarded to the Wampus School by the BHEF and the DLYMF earlier this year. The Playground provides an improved recess experience for students and supports the physical Peaceful Playground at Wampuseducation and health curriculum. Stations in the Peaceful Playground are designed specifically for students in grades 3-5, offering nearly 100 activities utilizing balls, beanbags and other equipment to promote physical exercise, collaboration, and social skills development. The Playground will also help students learn how to resolve conflicts, play cooperatively with their peers and prepare for leadership roles. Games will be introduced and explained during students' physical education period so that all students can become familiar with the different activities available to them.
According to BHEF Chairman Scott Levy, the Peaceful Playground was an idea that originated with the Wampus faculty to upgrade an underutilized area. It is designed to maximize the space, encourage physical activity and enrich the social aspects of the school's recess playtime.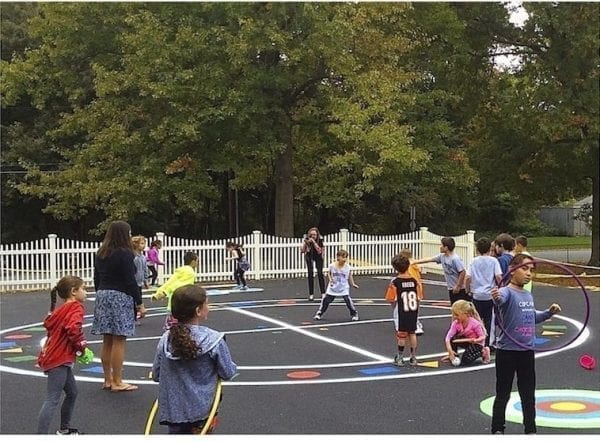 The Byram Hills Education Foundation is a not-for-profit corporation that provides financial support to the teachers and school administrators for creative programs and equipment not normally included in the school district's annual operating budget. The Foundation has awarded over 300 grants to the Byram Hills School District, totaling more than $3.6 million since its inception in February 1994. More information about the Foundation is available at www.byramhillsfoundation.org.