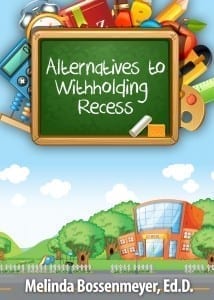 Withholding Recess is Prohibited in 44% of School Districts
Given the value of recess in a student's physical and social development and the need for periodic breaks from classroom instruction, withholding recess is prohibited in 44% of school districts across the nation.   Educators and administrators alike are examining the use of recess as punishment.  With the recent findings on the academic benefits of recess and physical activity, withholding recess is becoming very unpopular with parents.  Listed below are some alternatives to withholding recess.
ZERO-COST ALTERNATIVES
1. Sit by friends,  2. Watch a video, 3. Read outdoors, 4. Teach the class, 5. Have extra art time, 6. Extra music and reading time, 7. Homework coupon, 8. Coupon for prizes and privileges, 9. Enjoy class outdoors, 10. Play a computer game, 11. Read to a younger class, 12. Get a no homework pass, 13. Make deliveries to office 14. Listen to music while working, 15. Play a favorite game or puzzle, 16. Earn play money for privileges, 17. Walk with a teacher during lunch, 18. Be a helper in another classroom, 19. Eat lunch with a teacher or principal and 20. Dance to favorite music in the classroom.
For additional ideas fill out the form below for your FREE download Alternatives to Withholding Recess .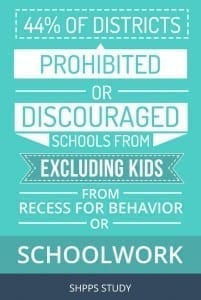 The Recess Advocacy Toolkit includes parent letters, a powerpoint presentation, a meeting agenda, and an advocacy guide for Saving School Recess. It can be download here: https://peacefulplaygrounds.com/right-to-recess-campaign/