Low Cost Solutions to Getting Kids Active at School  Monday-Friday
By Melinda Bossenmeyer, Ed.D.
Children six years and older need a minimum of 60 minutes of physical activity a day. So physical activity at school makes for a perfect opportunity to accomplish this.  Below you will find some great suggestions for getting children physically active at school.
Simple and Inexpensive Physical Activity at School Ideas
Monday – Jump Roping.
Individual jump roping is both inexpensive (jump ropes cost only a couple of dollars) and effective way to fit in more physical activity at school.   Not to mention it helps with coordination, agility, and endurance. Jump ropes are a great "go-to" product, providing a low-cost solution to getting students active. In my experience, I found that boys might hesitate at first but when reminded that world class boxers use this as a training strategy, they're all in.
Here are three simple activities that will get their heart rates racing: 1) Jogging and jumping in place. The activity of jogging in place speeds up both the feet and rope turning in most cases. 2) Side swing, then jump. 3) Double bounce between rope turn
Begin by teaching the skills of jumping rope. A good free resource is the American Heart Association (AHA). Their materials are available for download from their website. They have a special educator section and activities for the classroom teacher and for the physical education teacher. They provide an online chart of sequential jump roping progressions with instructions and graphics.
Keep in mind that jumping rope is a very high-intensity activity for most children. Make sure to build in breaks and think about interval experiences like jumping when you hear the music and stopping jumping when the music stops. Music is also highly motivating for most everyone.
Tuesday – Walk or Jog Across the U.S.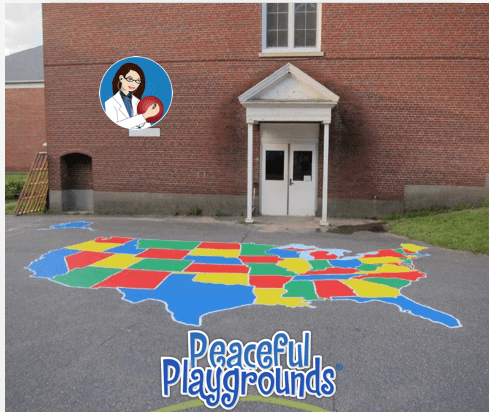 P.E. Central has an interactive Walk Across America website where students can log their steps daily. The site gives students the ability to compare their stats with other students in class or in the state they are walking across. They can also participate in a group hike or set their own daily goal. This requires a weekly log-in, but students can log-in and record steps daily. This is a free service made available by P.E. Central. Remember that Peaceful Playgrounds sells pedometers and a cadence CD for keeping children motivated on their journey. If you would like to add a painted U.S. Playground Map visit our website to order or enter our U.S. Map Stencil Give-A-Way to win.
Wednesday – Game Day
Pick your favorite high activity game each Wednesday and allow kids to play it during the focused fitness activity. The game below is an example of a high action game that keeps kids moving. Kids are usually tired after about three minutes. Lengthen time as the school year progresses.
Builders and Bulldozers – This is a fun game that needs a lot of small cones to work. Basically, you spilt the class up into two groups. Half of the class are bulldozers and half are builders. Tip half of the cones over, the other half should be right side up. The bulldozers knock over cones and the builders put them straight up. Blow a whistle to start and stop the activity. Give kids three minutes. At the end, everyone needs to freeze. The teacher can count how many cones are knocked over and how many are still standing. Change up the game by telling kids they can only touch the cones with their left foot, right foot, left elbow or other body parts. This is a game from sparkpe.org.
Thursday – Circuit Training 
Circuit Training has been called the shortcut to fitness mainly because the activities are focused with short bursts of activity. Typically the activities are performed in a circle with participants moving around a circle performing the activities in a set pattern for a set period of time.
Skillastics has a fitness developed a Fitness Skillastics game that keeps kids moving indoors. Skillastics and Peaceful Playgrounds joined to create an outdoor, permanently painted fitness court for school yards and recreational spaces. Designed to keep kids moving, the Fitness Fun Zone is a visual reminder for physical education and classroom teachers alike, of the many choices available for getting kids active. The court offers five activities and was designed for daily physical activity options. The court utilizes painted fitness activities that require little or no equipment.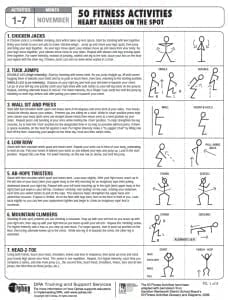 Ophea has created a list of 50 different fitness activities that can be performed on the spot.
These heart raising activities, designed specifically for limited space, are used throughout the Primary, Junior, and Intermediate Ophea DPA Activity Cards.
These are downloadable from the Toronto District School Board Website.
Related Article on School Playgrounds
Low Cost High Activity Playgrounds