Parents Plan Play Upgrade
August 2008
By Elizabeth Roman
The Republican – Longmeadow, MA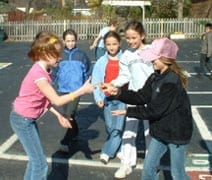 Besides the typical slides, swings and monkey bars they usually see on their playground, the students at Center School on Longmeadow Street will participate in outdoor physical activity that doesn't  involve any equipment.
Elizabeth Baron, the co-president of the Center School Parent Teacher Organization, requested approval from the School Committee Monday to use funds they have raised to update the school's playground. This includes adding a Peaceful Playground.
"If you're not familiar with Peaceful Playgrounds, it is a series of games and activities painted onto the ground (asphalt), making it much safer for kids," Baron said.
Baron said the organization has earmarked $9,000 for the project. This will include some necessary maintenance to the school grounds.
"We need to resurface the blacktop and there are some deep holes in the playground area that need to be taken care of as well," she said.
Superintendent of Schools E. Jahn Hart said she approves of the project along with Department of Public Works.
According to their Web site, the Peaceful Playgrounds program "designs permanent playground activities that help make physical activity time more positive and productive. …
The program is intended to maximize the number of students involved in physical activity, rather than having them wait in line, or just stand around talking."
Baron said this playground model is safer than traditional playground equipment and helps children with motor skills as well as physically keeping them active.
The program includes games such as hopscotch and four square that are painted on asphalt and can be used by students when they are out playing after lunch or participating in a structured physical education class.
"We are so excited for the kids to use this," Baron said.
She said she hopes all of the work on the playground will be completed before classes begin in September.
The Republican – Parents Plan Play Upgrade