Ideas for  Healthy School Lunches
1. Serve a Hot Meal
Schools across the country are beginning to prepare hot meals on site making available healthier choices thus eliminating or reducing fried foods and junk food from school grounds.
The problem, however, is that healthy foods can take longer to eat and research indicates that eating fast often means children and adults eat more which contributes to the obesity crisis.
2. Allow 20 Minutes for Eating Lunch
U.S. Department of Agriculture set new nutrition standards for all food served in schools, from lunchrooms to vending machines. A recommendation in the new nutrition standards calls for a 20-minute block of time to "eat" lunch. The average elementary school has a 25 minute lunch period which also includes time to play, to use the restroom, in addition to, the walk to and from the lunchroom. Clearly, students fall well below the 20 minutes recommendation for a block of time set aside for eating.
As a retired elementary school principal, I observed first hand the desire to play rules over the desire to eat with the majority of children.  The mad dash to shovel down food to get to the playground means food waste and often tummy aches after recess. It is this reason that I've suggested that schools consider recess before lunch scenarios.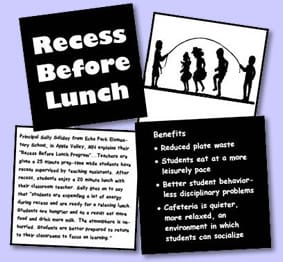 3. Implement a Recess Before Lunch Program
Peaceful Playgrounds offers free monthly Recess Before Lunch Webinars and materials to implement a RBL program. If you need to be convinced – consider that in Recess Before Lunch Research children: Waste less food, are better behaved in the cafeteria, return to the class calmer, ready to learn, and throw away less food.
4. Teach Students the Balance Between Good Nutrition and Physical Activity
Another free resource that I particularly like is The Eat Smart. Play Hard.™ Campaign by USDA's Food and Nutrition Service (FNS). It teaches children, parents, and caregivers the importance of eating healthy and being physically active every day. Eat Smart. Play Hard. ™ offers resources and tools to convey and reinforce healthy eating and lifestyle behaviors that are consistent with the Dietary Guidelines for Americans and the MyPlate Food Guidance System.
5. Consider a School Garden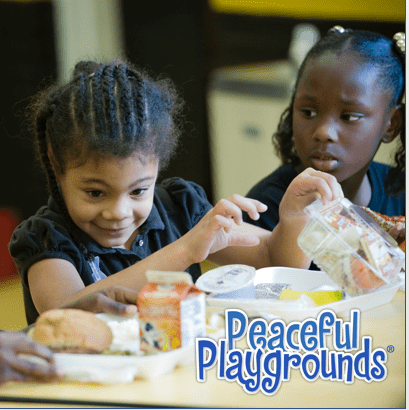 School gardens are literally popping up everywhere. The concept is that a school garden can enhance students learning in especially the health related concepts. One of the well-known gardens involving children is the garden on the White House which coincided with the exponential growth of school gardens over the last couple of years.
For tips on How to start a school garden check out School Garden Wizard. It is a free resource for K-12 schools. For most school settings the garden is not any extension of lunch offerings but rather to enhance academic instruction according to a Research Brief by Heather Graham Department of Nutrition at the University of California Davis.
6. Check out Farm to School Programs
The Colorado Springs School District and Falcon School District 49 are working with the Good Food Project and Pikes Peak Farm to School committee to partner regional food producers with schools to ensure school students are getting fresh food and healthy food. The Good Food Project also puts out a monthly nutrition newsletter for students with the goal of teaching them they need to care about where their food comes from and why they need to eat good food. You can preview last year's "Know Your Food" on the Good Food Project website.
7. Prompt Kids to Make Healthy Choices
If your goal is to help kids make healthy choices the Center for Nutrition and Policy Choices point out that some food choices are not always more expensive. In one study cafeteria workers ask each student if they would like to add fruit or fruit juice to their lunch and 90 percent of students added it and of those 70 percent consumed it. As opposed to students who weren't prompted at 60 and 40%.
Another school moved the fruit from a barrel at the end of the line to on top of the serving counter with a light shining down on the fresh fruit. Sales of fruit went up 54% by the end of the second week. Another strategy to assist students in making healthy choices is a school activity that helps children think about healthy snacks a weekly writing prompt about healthy foods.
8. Shorten Lunch Lines
Waiting in line contributes to the frustration that can lead to behavior problems. One school sent a student to the cafeteria by grade level generating more bells resulting in shorter lines and happier students.
9. Encourage Parents to Pack Healthy Foods
Don't forget the students who bring their lunch. Ban soda and candy as part of the lunch time fare. Although schools have taken it out of the vending machines some students still bring it. Communicate the ban on junk food and soda to parent packing students' lunch. You may also be interested in the Packed Lunch Policy Toolkit. This is a step by step guide to developing a healthy packed lunch policy.
10. Twelve More Inexpensive and Effective Lunchroom Changes
Brian Wansink from the Center for Behavioral Economics and Childhood Nutrition at Cornell University received a $1 million grant from the Department of Agriculture last year. He was to come up with research based solutions to encourage healthier eating in school lunchrooms. Twelve of his low cost or no cost recommendations points out steps schools can take to improve school nutrition choices by children.
Related Information on Childhood Obesity and Nutrition.
Schools Role in the Childhood Obesity Crisis
Schools Teaching Organic Gardening
Healthy Food, Healthy Bodies Healthy Minds
Countdown to Good Health and Nutrition
Ten Tips for Healthy School Lunches
For a deeper dive into resources for Recess and Physical Education visit our Member's Library.  It's FREE.