Childhood obesity has taken center stage as children's #1  health problem.
Senators and Congressmen are joining forces and passing legislation for mandatory physical education and many states are reinstating recess. Pediatricians are attempting to advise parents to attain a healthy body weight for their children. The emphasize that healthy bodies healthy minds go hand in hand. Legislators, administrators, and community leaders have joined forces to remove unhealthy food choices from vending machines while transforming school lunch menus across the country.
All facets of society, including business, government, and families recognize childhood obesity as a growing problem and are taking action!
Peaceful Playgrounds champions the efforts of individuals and organizations who actively work towards creating healthy bodies and healthy minds. One such person, we'd like to spotlight as a health advocate is Alice Waters.
Early Advocacy?
Alice Waters was recognized in the "healthy living and eating" sphere long before "childhood obesity" became a documented epidemic. She began creating awareness of the importance of healthy eating by opening an infamous Berkley restaurant called Chez Panisse
.
For several decades, this French bistro has continued to develop a network of local farmers and ranchers whose dedication to sustainable agriculture assures Chez Panisse a steady supply of pure and fresh ingredients.
She follows the philosophy of serving only the highest quality products and only when they are in season which guarantees a fresh product. She was also one of the first to serve antibiotic and hormone free meats and insists on fresh, organic, locally-grown fruits and vegetables.1
She has also written eight cookbooks on healthy eating and preaches about fresh food grown in a way that's good for the environment. Her latest venture has been to start a foundation that grants schools the opportunity to grow and taste healthy foods called "The Edible Schoolyard".
San Francisco Mayor Gavin Newsom said, "She has, I think, done more to change our eating habits, for the better, than anyone in the United States of America."
Ms. Waters has also received numerous accolades:
Chez Panisse was named Best Restaurant in America by Gourmet magazine in 2001.
Bon Appétit magazine's Lifetime Achievement Award in 2000.
James Beard Humanitarian Award in 1997.
She was named Best Chef in America by the James Beard Foundation in 1992.
Cuisine et Vins de France listed her as one of the ten best chefs in the world in 1986.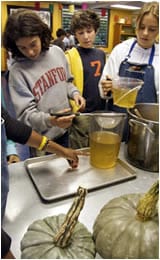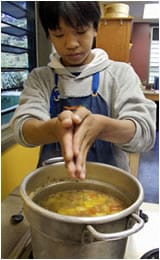 Slow Food vs. Fast Food
A good way to sum up modern society is "Go, Go, Go!". We all seem to be caught up in the hustle and bustle of crossing things off our To-Do Lists and not much time for specifically thinking about the food that we eat, where it comes from and how our bodies, minds, and environment are affected.
The Slow Food movement
aims to preserve the cultural cuisine and the associated food plants and seeds, domestic animals, and farming within an ecoregion. Alice has spearheaded the movement in America, a healthy alternative to "fast food."
Our society is dominated by "fast food". One startling statistic is that "75% of Americans are eating their dinners at home, however nearly 50% of those meals consist of fast food from restaurants or grocery delis."
The Slow Food movement2 and the Organic Consumers Association
are working to reverse these changes and bring families back to the dinner table, with the benefits of agricultural sustainability, better health, better relationships with friends and family, and good flavor."3
They recognize that it is not only our bodies that are paying the price of unhealthy eating but also our minds and our environment. That is why the focus is not just about the food you intake but also where it's coming from.
They advocate locally grown, which will diminish a number of gases used to transport it as well as preservatives or packaging waste created in transporting it to you. "I think we have to understand that there are consequences for every decision we make every day," Alice commented.4
Alice says, "People are starting to realize that the way that we've been eating is making us sick". "We consume lousy food. This is killing us. I mean it really is. And this whole movement to me is the antidote for that," says San Francisco Mayor Gavin Newsom.
The slow food movement has been heavily supported by SF Mayor Gavin, who supported a Slow Food Festival
at which over 80,000 people attended. So it's no surprise that slow food is also working its way into schools in the San Francisco area.
The Edible Schoolyard
The Edible Schoolyard demonstrates the transformative power of growing, cooking, and sharing food. It was created in an effort to bring kids into a new relationship with food.
At Ms. Waters' pilot school, Martin Luther King Middle School, they grow the food right on the school grounds, followed by a cooking lesson on how to prepare the food they've grown. For many students, it's the first time they've eaten fresh organic foods.
One student says of the class, "We're learning about compost, crab grass, how to raise [a] good healthy garden". Waters says that in these challenging economic times we need the edible gardens more than ever. If everyone knew how to grow a garden, and then cook their own meals, it could transform our lives as we know it.
The garden is not designed as an "alternative class". It is designed to be integrated with the whole school day curriculum. The students come to the garden with their science teachers, and even their history teachers to the kitchen.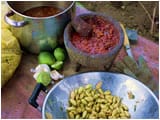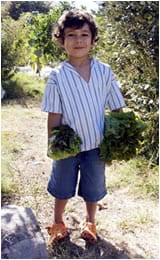 One example of how the garden was utilized to teach the children was when the children were learning about Mexican history and that culture's use of corn. The children were able to go to the garden and look at the different types of corn being grown, and then they were given the opportunity to cook and taste the varieties as well.
In an interview, Alice Waters described how President Kennedy recognized that the children in America were not physically fit. The United States responded by creating a core curriculum that taught children how to be physically engaged in activities. We built gyms and running tracks, hired teachers and created physical activity programs for most American schools. We spent lots of money and did everything that was necessary to get this effort up and running.
Ms. Waters now recognizes this need again. She is sending out a call to action. "We need to go into the public schools and bring children up with a whole different way of thinking about food and their lives… good food should be a right and not a privilege, and it needs to be without pesticides and herbicides. And everybody deserves this food." A quite startling fact is that "Americans spent more on fast food last year than on education."
A definite need to refocus our priorities and help our youth is obvious and present.
Let's all listen to this call to action and make not only physical fitness a priority but also recognize the importance of knowing where our food comes from, how to grow it, and how to prepare it to be edible and tasteful.
Read More – The Edible Schoolyard program by the Chez Panisse Foundation
Related Article
For a deeper dive into resources for Recess and Physical Education visit our Member's Library.  It's FREE.