Painting Peaceful Playground Games in Oklahoma Schools, July 2015
by: Blake Taylor Lawrence Elementary, Wichita, KS and Vaughn Humbolt, Rosalia, KS
In January of 2015, I was asked by Lindsi Lemons the Program Director of Schools for a Healthy Lifestyle, and Jason Hasty of the Putnam School district, if I would be interested in Painting peaceful playground games again for their Oklahoma schools. After numerous delays due to record rainfall, other commitments, and a minor injury, we were finally able to paint the third week of July. It turned out that it would be the hottest week of the summer!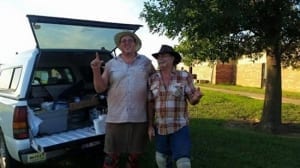 I talked my former co-worker and dear friend Vaughn Humbolt who was enjoying retirement to come help me for four and a half days to paint eleven schools, nine in Oklahoma City and two in rural Oklahoma. The schools that we painted included: Overholser Elementary, Apollo Elementary, D. D. Kirkland Elementary, Ralph Downs Elementary, Harvest Hills Elementary, Northridge Elementary, Parkland Elementary, Oakridge Elementary, Hupfeld Elementary, Beggs Elementary, and Choctaw Elementary.
The first day we left my farm outside of Augusta Kansas at 4:30 A.M. and drove to Oklahoma City to our first of three schools. The first two days we had six schools to do with some of them being repaints, while the last two and a half days we were starting from scratch. Typically, we would work from 6:30 A.M. to 11:30 A.M. By about 11:15 A.M. the surface would be too hot to work on. Then we would go eat lunch, take a nap at the hotel, and go back to painting from 4:00 P.M. to 8:30 P.M.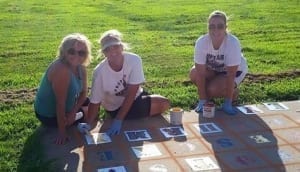 Each school had a diagram of what they wanted added or redone from previous painting. The first step was to clean off the surface with a broom or leaf blower. We would then determine the lay out using the diagram and ensure that it was a safe set-up. Then we would break out the tape measure, sidewalk chalk, and the chalk line to being the layout lines for each game. Once we had three or four games laid out, I would start the process of tracing the chalk lines with the painting machine so that Vaughn could start painting the numbers or letters for each game.
Games included Four Square, Hop-Scotch, Letter Grids, Number Grids, Round the World Basketball, Ball Hop Scotch, Bean Bag Four Square, Bean Bag, Galloping Track, Mid-Line Jumping Grid, Multi-Use Circle, Scattered Circles, Skipping Track, Tether Ball Court, Balance Beam Snake and basketball court lines. Each school presented a unique challenge because some had rough asphalt surfaces, while others had limited space, slopes, or obstacles to work around.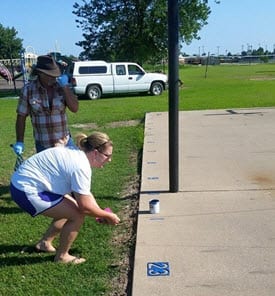 On the morning of the fourth day we realized that our afternoon school was ninety miles away in Beggs Oklahoma. We finished our morning school and then jumped on the turnpike to Beggs, which is south of Tulsa 25 miles. Since we had a few hours till our start time we decided to park under a shade tree, clean out the back of the truck and get organized. We wanted to ensure that we had enough paintbrushes, gloves, and line spray paint to finish our last two schools.
Soon, three friendly staff members showed up, the Principal Nancy McCune, and PE teachers Melissa McNabb and Courtney Remington. These three ladies showed us how country girls' work and work they did! They were some of the most fun and hardworking people that we have had the pleasure to work with and they made two very tired guys day!
After leaving Beggs we drove half the distance to our next school in Choctaw and spent the night in Chandler Oklahoma getting into the hotel around 11:00 PM. The next morning we drove the rest the way to Choctaw. They had 12 volunteers ready when we arrived. So, Vaughn and I started the layout and soon I was able to start putting the lines down for some of the more time consuming games. This allowed the volunteers to get started painting the lines and numbers.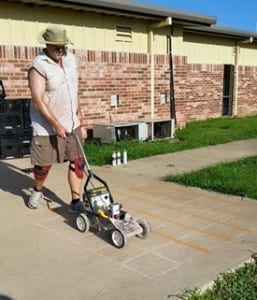 They wanted a lot of games and with the extra help and their hard work we were able to accommodate their needs. Needless to say, we were beat and a little delirious at this point in our road trip as we started the drive back to Kansas. Overall however, we enjoyed the experience of visiting the different schools within Oklahoma and meeting new people. It was nice to spend some time with a dear friend, while helping to make a different in children's lives. It will be an experience that we both treasure in our lives.
Biographies: Blake D. Taylor is a Physical Education teacher in the Wichita School District. He has been active at the state level in KAHPERD since 2001, as Elementary Chair, Model School Committee, and President in 2012. He has also served as Central District Co-Advocacy Chair where he co-wrote a grant and presentation that was used nationwide to advocate for quality health and PE. Recently Blake finished his second Master's degree in School Leadership at Baker University in Kansas.
Vaughn Humbolt has been a carpenter and maintenance man for the past 50 years. He has worked at Wichita State University and Flint Hills Schools in Kansas. He is currently retired and working on his farm in the Flint hills of Kansas.