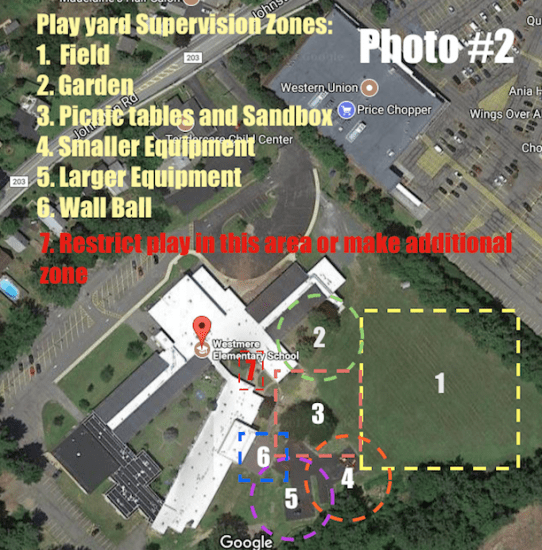 After a school playground incident involving a first-grade student, a child's mother, Mrs. Romeno petitioned the local School Board to consider playground safety guidelines from Peaceful Playgrounds designed to keep all kids safe on the playground. The incident has turned the mother into an advocate for school playground safety at Guilderland. She presented the board with a petition signed by more than 175 Guilderland residents, calling for safety and security measures.
The mother's suggestions include recommendations for playground safety by the Centers for Disease Control and Prevention and included guidelines from Peaceful Playgrounds. Romano believes the district's approach to playground supervision needs to become more formalized.
She provided board members with playground-supervisor training guidelines from Peaceful Playgrounds, a national program that promotes healthy and safe play.
The guidelines advocate dividing up a playground into supervision zones, such as "grass," "play structures," or "blacktop areas," and having a minimum of one adult per zone. Each supervisor should be alert, walk around the area rather than stand still, and visually scan constantly, the guidelines say. Supervisors should not be organizing games and they should put off having conversations with other adults until after recess, according to the guidelines.
Supervisors should make eye contact when they believe that behavior problems are brewing, move close to students when a confrontation seems likely, give verbal warnings, be firm in enforcing rules, and step in to stop any inappropriate behavior, the guidelines say, and any bullying incidents should be reported to administrators.
Playground supervisors could wear whistles around their necks and could carry walkie-talkies that would allow them to communicate with office staff if necessary, Romano wrote in the materials she gave board members; she suggested that some of these items could perhaps be donated by police or fire departments.
You can read the full article here:
Mother petitions for playground safety, telling school board her first-grader was attacked by classmate